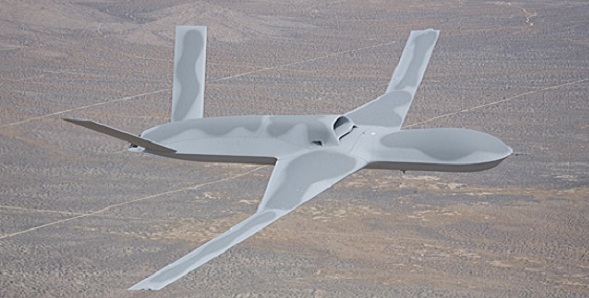 USAF Jet Powdered Drone
The Air Force will be sending a one-off copy of General Atomics Predator C Avenger UAV to Afghanistan where it would be tested in a combat environment. This is very interesting, just after losing an RQ-170 Sentinel drone to Iran the AIr Force is sending a single, stealthy-ish Predator-C Avenger drone to Afghansistan. The Predator C is made by General Atomics and appeared to be in the running for the Air Force's MQ-X next-generation combat drone project. That effort was put on old when the service said that it wanted to revise the requirements to make the drone more survivable.

Now, the Air Force apparently requested that the drone be sent to Afghanistan before the RQ-170 crashed. Furthermore, an Air Force announcement makes it sound as if the Predator C's wing hardpoints will be used to carry weapons, something that will eliminate any stealthiness. "This aircraft will be used as a test asset and will provide a significantly increased weapons and sensors payload capacity on an aircraft that will be able to fly to targets much more rapidly than the MQ-9 [Reaper] UAS.

Since it has an internal weapons bay and four hardpoints on each wing it will also allow greater flexibility and will accommodate a large selection of next generation sensor and weapons payloads." This makes it unlikely that the drone will be used as a replacement for the Sentinel. Read more: http://defensetech.org/2011/12/14/usaf-sending-new-drone-to-afghanistan/#ixzz1hJuvp9JW Defense.org Read more: http://defensetech.org/2011/12/22/predator-c-not-going-to-afghanistan/#more-15759#ixzz1hJubfDlP Defense.org
The solicitation has since been updated to erase any signs that it ever said cancelled. The part saying where the aircraft will be used has been redacted. The Predator C "will be used as a test asset in [redacted] and will provide a significantly increased weapons and sensors capability on an aircraft that will be able to fly to targets much more rapidly than the MQ-9 UAS," reads the document.

As Aviation Week recently noted, this could be an effort to restart the services dormant MQ-X next-gen combat UAV program that was put on hold so that the service could develop requirements for a more stealthy and survivable drone. With budget cuts looming, the Air Force may want to get an existing jet into the field quickly so as to avoid the difficulties in launching a brand new program. Read more: http://defensetech.org/2011/12/22/predator-c-not-going-to-afghanistan/#more-15759#ixzz1hJwv69on Defense.org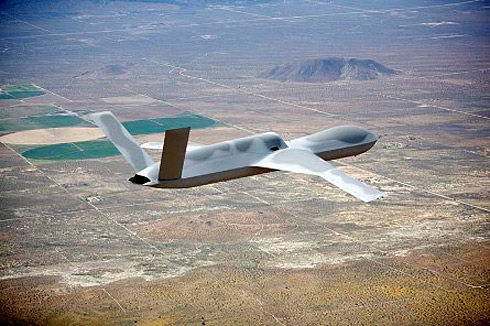 US Air Force orders General Atomics Avenger
The US Air Force has ordered the General Atomics Aeronautical Systems Predator C Avenger for deployment to Afghanistan. A single aircraft is being procured, marking what may be the type's first order. Although termed a test aircraft, the order fulfils an urgent request by secretary of defense Leon Panetta for reconnaissance and strike assets.

Several untested aircraft and systems have been purchased or deployed under urgent operational requirements, including the Northrop Grumman MQ-8B Fire Scout currently operating in Afghanistan. "This aircraft will be used as a test asset and will provide a significantly increased weapons and sensors payload capacity on an aircraft that will be able to fly to targets much more rapidly than the MQ-9 [Reaper] UAS," the USAF said in an announcement. "Since it has an internal weapons bay and four hardpoints on each wing it will also allow greater flexibility and will accommodate a large selection of next generation sensor and weapons payloads." The request for the aircraft was made earlier in 2011, before the crash of a stealthy Lockheed RQ-170 Sentinel in Iran.
Despite being jet powered and heavily modified, the Predator C has a high degree of commonality with similar General Atomics systems that are heavily employed by the Department of Defense, including the MQ-1 Predator and MQ-9 Reaper. Specific mention is made of the Predator C's ability to carry a total payload of more than 907kg (2,000lb).

The Predator C, capable of attaining over 400kt (740km/h) and 60,000ft (18,200m), has been flying since 2009 without a customer. A seagoing version, the Sea Avenger, is considered a strong contender for US military programmes, including the navy's unmanned carrier-launched airborne surveillance and strike programme.
For more Info go to.http://defensetech.org/2011/12/22/predator-c-not-going-to-afghanistan/#more-15759