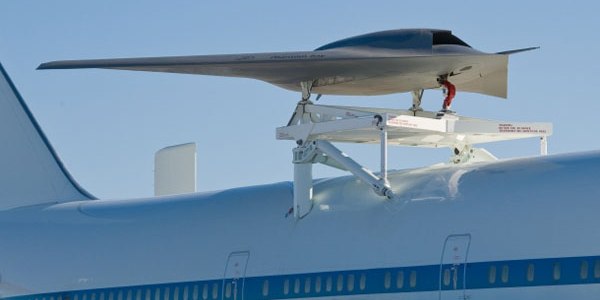 BOEING's PHANTOM RAY STEALTH UAV MAKES FIRST FLIGHT
Boeing's Phantom Ray stealthy UAV demonstrator made its first flight last week out of Edwards Air Force Base. The fighter-size Phantom Ray is derived from Boeing's unsuccessful X-45 bid for the Navy's unmanned combat air system demonstrator program. Boeing engineers were undaunted and decided to tweak the X-45 design and continue developing the bird on the company's own dime. The plane made its premiere flight out of Edwards Air Force Base in California on April 27, when it flew to 7,500 feet and reached a speed of 178 knots. This flight along with upcoming ones was to prove that the plane is airworthy, engineers will gradually push the plane higher and faster and have it perform more complex manuvers to ensure that it works as designed. Once this is done, Boeing will start testing the plane's ability to do everything from conduct ISR and close air support missions to electronic warfare and autonomous mid-air refueling. Keep in mind that this is the second airplane designed to do these things that's already in flight test. Northrop's X-47, the victor in the UCAS contest, entered flight test earlier this year and will be flying off carrier decks in the coming years. Boeing's Phantom Ray program manager said it best when he described how stealthy, unmanned combat drones are here, in a big way. "The first flight moves us farther into the next phase of unmanned aircraft," said Craig Brown, Phantom Ray program manager for Boeing. "Autonomous, fighter-sized unmanned aircraft are real, and the UAS bar has been raised. Now I'm eager to see how high that bar will go." Now that the flood gates are open, we may see these highly advanced UAVs make their combat debut much quicker than we expected. Heck, the Air Force is already flying one stealthy-looking UAV in Afghanistan. Some even speculate that it played a role in the mission that killed Osama bin Laden on Sunday. If they've got that bird flying publicly, I guarantee you they've got a host of similar yet more advanced projects flying in the black world.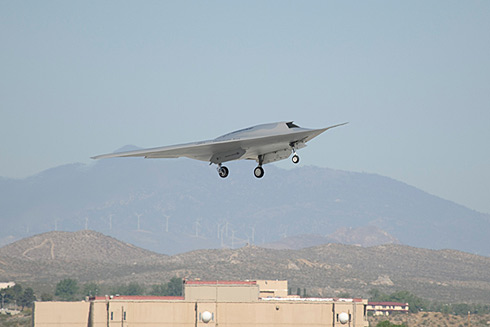 From a Navy announcement on the Feb. 4 flight: "Today we got a glimpse towards the future as the Navy's first-ever tailless, jet-powered unmanned aircraft took to the skies," remarked Capt. Jaime Engdahl, Program Manager for the Unmanned Combat Air System Demonstration, after observing the X-47B maiden flight at EAFB today. As we said above, this is a major event in the development of unmanned combat planes. For the last decade, slow and unstealthy MQ-1 Predators and MQ-9 Reapers have owned the armed drone mission. The problem is, these planes aren't likely to last long in a serious war. While the Air Force has publicly fielded one stealth drone, the RQ-170 Sentinel, that plane remains unarmed (at least officially). The Northrop Grumman-built X-47B is meant to prove the concept of a aircraft carrier-based, combat drone capable of doing everything from ISR missions to close air support. This is history being made. The flight is the first of 50 planned for the rest of the year where Navy officials will put the jet (and eventually a second X-47B) through increasingly challenging flight situations to make sure the plane works as designed. Once this is finished, the two jets will move to Patuxent River Naval Air Station in Maryland where they'll gear up for carrier testing. Stealthy, survivable planes like the X-47B and it's successors will play an increasingly important role in the Pentagon's plans to overcome advanced anti access and area denial systems. The planes will someday be capable of being refueled in flight; allowing them to take off from carriers far from shore and fly into relatively high threat environments where they can work with other stealth jets such as the B-2, F-22, F-35 to accomplish their mission. However, one of the big challenges in sending these planes downrange for missions like this will be data assurance; basically protecting the signals that control the aircraft from being hijacked by the enemy.